XXXIX  POWER of the ONE
William Bond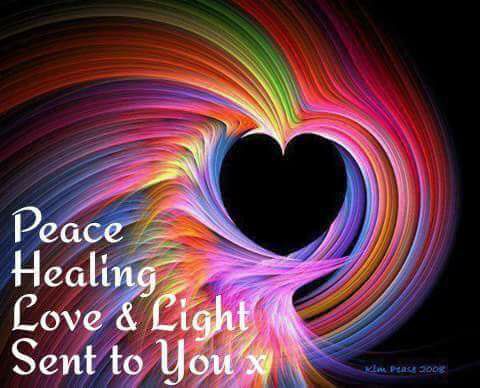 comments Rasa Von Werder

In our patriarchal world we are told, love is a weakness. But love is the strongest force in the universe providing it is total love, that is to say, love for yourself as well as love for everyone else.

 
RASA SAYS: GOOD WORDS. WHAT IS LOVE? IT'S DEFINITION LOSES MANY. I THINK I HAVE IT RIGHT. THERE IS EARTHLY LOVE OR DESIRE (WHICH CAUSES SUFFERING WHEN NOT FULFILLED) & THERE IS GOD'S LOVE. THE GOD WE SPEAK OF IS INSIDE, OUR OWN GOD NATURE. THERE'S USUALLY A STRUGGLE BETWEEN THE DESIRES OF THE FLESH & THE GOD NATURE, BUT IN THE END, WHEN WE SUCCUMB OR SUBMIT TO THE WILL OF GOD, THERE IS PEACE. THE HARDSHIP IS HAVING TOTAL TRUST, FAITH, CONFIDENCE IN GOD THAT SHE WILL GRANT US ALL WE NEED & EVEN WHAT WE WANT BE IT GOOD FOR US. WHEN WE AREN'T SURE GOD WILL GIVE US WHAT WE NEED & WANT WE ARE UNHAPPY AS WE ARE AFRAID & ANXIOUS. SUBMISSION TO THE WILL OF GOD IS THE KEY BECAUSE SHE KNOWS BETTER THAN OUR FLESH WHAT WILL, IN THE END, MAKE US HAPPY.
 
So how do we access this power? We do it through the power of our desires and total faith in the power of the feminine One.
 
Because the One is feminine She loves us all and wants to give us everything we desire. So when we desire anything She will grant it to us. But if that is correct why aren't we then getting everything we desire? 
We can only access the power of the One by not interfering with what She is attempting to give us. She has given us all the power of freewill and she will never interfere with our freewill once we use it. 
 
RASA SAYS: WILLIAM BRINGS UP CRUCIAL ISSUES FOR OUR SALVATION, OUR HAPPINESS. FREE WILL – HOW LITTLE IT'S SPOKEN OF, BUT THIS IS TRUE, OUR WILL DECIDES OUR FATE & IF WE STUBBORNLY GO AGAINST WHAT OUR DEAR GOD WANTS, WE WILL GET OUR OWN WILL ANSWERED & THAT COULD BE DISASTER. NOW WE ASK THE QUESTION – WHY DOES GOD GIVE US FREE WILL? WHY NOT JUST MAKE US DO WHAT'S RIGHT? BECAUSE THE MAIN THING GOD TEACHES US IS LOVE. IF WE DO NOT SUBMIT TO HER IN LOVE THEN IT ISN'T LOVE, IT IS LOVE THAT SHE TEACHES US. IF YOU FORCE YOUR LOVER TO BRING YOU ROSES IT ISN'T LOVE- YOU FORCED HIM. HE HAS TO DO IT OF HIS OWN FREE WILL, BECAUSE HE LOVES YOU. YOU DON'T REMIND HIM 'BRING ME ROSES, IT'S VALENTINES DAY' BECAUSE THEN YOU'RE TELLING HIM WHAT TO DO & YOU AREN'T SURE IF HE LOVES YOU.

So it means that once we have a desire for anything we have to allow the One to grant it to us, without interference. Unfortunately, this is what we do all the time, because we do not know about power of the Great Mother.
Let us say we cannot pay our rent, so we have a powerful desire to have the money to do this. The One will then use Her limitless power give this to us. But with that desire comes all our thoughts about how we can obtain this money. So we might think about getting another job or winning the lottery or we might give up in despair and prepare ourselves to be homeless. All these thoughts block off the power of the One because She cannot override our freewill.
 
So for us to use the power of the One, we have to use ONLY Her power and nothing else.
So if we have any desire then we have to acknowledge we have it and only focus on that desire and nothing else. Once we start to look for ways to achieve our desires in the material world, then we assert out freewill and take control. Then the One backs off because She will never interfere, once we do this.
RASA SAYS: PAYING THE RENT IS A BIGGIE. SHE PROBABLY TALKED TO US LONG AGON TO MAKE SURE WE HAVE THE BASIC NEEDS, LIKE FOR EXAMPLE; SHE MIGHT HAVE SUGGESTED SOME PREPARATION IN EDUCATION SO WE COULD GET A GOOD JOB. BUT IF WE RESISTED THAT SUGGESTION THEN IT IMPAIRED THIS ABILITY, A FEW YEARS LATER WE'RE IN OUR PREDICAMENT. IT WASN'T HER FAULT – WE DIDN'T LISTEN. OR ELSE SHE SUGGESTED 'BE NICE TO SUCH & SUCH A PERSON' BUT WE WEREN'T. DOWN THE LINE THAT PERSON WOULD HAVE GIVEN US SHELTER BUT NOW WE DON'T HAVE IT. OR ANOTHER PERSON WOULD HAVE GIVEN US A LOAN HAD WE BEEN NICE TO THEM, BUT WE WANTED TO 'PAY THEM BACK' FOR HURTING US SO WE AREN'T FRIENDS ANY MORE. WE DID THE THINGS THAT WOULD LEAD TO THIS FRIGHTFUL DILEMMA; WE DISOBEYED THE URGINGS OF GOD. NOW WE ARE DESPERATE & NOTHING SHORT OF A MIRACLE WILL PAY OUR RENT. WE DID IT TO OURSELVES, GOD DID NOT DO IT. SO REPENT & CALL OUT TO HER FOR A MIRACLE.
So the power of the One is totally feminine She will never aggressively assert Herself and override our freewill. But because She is the One, Her power is unlimited, she has the power of miracles. So we have to allow Her to use her unlimited power and not interfere with our puny limited power.
Now this is spoken about in many patriarchal religions but they call it the power of faith. So they claim that if you have faith and believe it enough God will grant it to you. Unfortunately, this is a bit difficult if you believe God is a judgmental and punitive male.

If you believe God will judge and punish you for your 'sins' and then told that we are all sinners, then it is tough to try and imagine he will grant you whatever you want. This is why worshiping male gods make in hard to believe in god's love or even that he is on your side.
 
RASA SAYS: WHEN I WAS BRAINWASHED TO THINK GOD WAS OUR FATHER, I TOOK IT WITH A GRAIN OF SALT. I KNEW HE WAS JUST A SYMBOL & I ALWAYS LOOKED TO MERCIFUL JESUS & HOLY MOTHER MARY WITH MY PRAYERS. BUT THE POINT IS WELL TAKEN HOW WE IMAGINE GOD TO BE.
                  I HAVE ONLY RECENTLY IMPROVED MY VIEW OF HOW GOD THINKS OF ME. I USED TO BE OVERLY AFRAID OF GOD, LIKE I HAD TO DO A GUZILLION THINGS TO APPEASE HER WRATH OR PLEASE HER – THIS MIGHT BE BECAUSE I WAS HORRIBLY ABUSED AS A CHILD, EMOTIONALLY, BY MY MOTHER & SOME FAMILY MEMBERS. NOW FEAR OF GOD IS BETTER THAN BEING COMPLACENT OR PRESUMPTUOUS OF SALVATION. BUT THE BEST ROUTE IS CONFIDENCE. I HAVE GAINED A NEW FEELING OF HOW MUCH GOD LOVES ME & HAVE FORGIVEN MYSELF FOR IMAGINED 'SINS' (I KEEP THINKING WHAT I MUST DO OR NOT DO TO PLEASE HER, WAY TOO MANY PHYSICAL ACTIONS) & AM MUCH MORE INTIMATE WITH GOD, HAVE GREATER FAITH & CONFIDENCE IN HER THAN EVER, & THE MORE CONFIDENCE WE HAVE, THE MORE LIKELY SHE ANSWERS. ST. GERTRUDE THE GREAT SAID THAT IT WAS HER CONFIDENCE THAT GAINED HER SO MUCH WITH GOD.
 
Whereas we see god as the feminine One who loves us all unconditionally then there is no problem with this. This is why when people worshiped the Great Mother then it was easy from them to access the feminine One but a lot more difficult when we started to worship male gods.

A big problem for most people is that masculine power and feminine power are totally different. This is the problem the femdom people have, they yearn for women to rule our world but they only know about masculine power. So they assume that women have to be like men as use aggression, violence, intimidation and deception to gain power.
 
RASA SAYS: THE SPIRIT OF GOD IS THE SAME IN EITHER GENDER, OUR SOUL HAS NO GENDER. MEN ARE THE SAME IN THEIR SPIRITUAL PART AS ARE WOMEN. IT'S IN THEIR FLESH THEY ARE UNDULY VIOLENT & AGGRESSIVE (TRAITS THAT ARE INGRAINED TO PROTECT THE WEAK & INNOCENT), ESPECIALLY THOSE WHO DO NOT SUBMIT TO GOD, EVEN MORESO THOSE WHO ARE DEMONIC (THE DEMONICS USE THIS AGAINST WOMEN & CHILDREN & OTHER MEN).

THE GREAT MEN OR MEN SAINTS – CONSIDER THEM. BUDDHA, JESUS, MARTIN LUTHER KING, JR., MALE SAINTS OF ALL RELIGIONS, WERE/ARE KIND, MERCIFUL, LOVING, FORGIVING – ALL THE VIRTUES. WILLIAM BOND IS LIKE THAT, OTHER MEN TOO. IT IS NOT THE SPIRITUAL NATURE OF MALES TO BE INTIMIDATING, DECEIVING LIARS, IT IS THE FLESH THAT DOES THIS. IN THE FLESH, INDEED, MALES ARE MORE SUSCEPTIBLE TO TRANSGRESSIONS BECAUSE OF THEIR HUMAN NATURE.

LET'S GET THIS STRAIGHT – WE ARE ALL GOD INSIDE, WE ALL HAVE THE SAME SOURCE OF POWER. WOMEN TEND TO BE MORE VIRTUOUS BECAUSE OF THE QUALITIES OF THEIR FLESH, THE TWO X CHROMOSOMES, THE MATERNAL INSTINCT & THE BRAIN BEING MORE ACTIVE IN THE FRONTAL LOBES.
 
                  MEN TEND TO FALL DOWN IN VIRTUE DUE TO THE LACK OF WHAT I JUST SAID. THEY HAVE ONE X CHROMOSOME, THEY ARE NOT MATERNAL OR NURTURING, THE FRONTAL LOBES OF THEIR BRAINS ARE ASLEEP (SEE RECENTLY 60K BRAIN SCANS OF MEN & WOMEN BY DR. DANIEL AMEN). IN THE DAYS WHEN MARAUDING MALES TOOK OVER THE PEACEFUL VILLAGES TO START PATRIARCHY – WE CALL IT SATAN TAKING THEM OVER & DONG HIS WORK THROUGH THEM. WILLIAM DOES NOT BELIEVE IN SATAN OR DEMONS BUT I DO. MANY RELIGIONS, JEWISH, HINDU, OTHERS, BELIEVE IN DEMONS. YOU COULD SAY THEY COME FROM HELL OR FROM PEOPLE – I BELIEVE THEY COME FROM PEOPLE, ARE MANIFESTATIONS OF HATE & RAGE INSIDE – & THIS HATE & RAGE IS MORE PREVALENT IN MALES THAN FEMALES.

                  SO WHEN WILLIAM SAYS 'MALE POWER' IS THIS OR THAT WAY, TO ME IT MEANS THE MALE POWER ENTRENCHED IN PATRIARCHY, THAT EVIL SPIRIT OF SATAN, THAT VIRUS THAT HAS INFECTED MANY MEN & SOME WOMEN, THAT IS A KIND OF NEGATIVE POWER THAT DESTROYS. BUT THAT IS NOT THE SPIRITUAL NATURE OF MEN, THAT IS THEIR PHYSICAL NATURE PREVAILING (WHEN USED IN A SINFUL MANNER IT COULD BE SATAN OR DEMONS POSSESSING THEM).

Feminists also make the same mistake and again believe that women have to use masculine methods in which to empower themselves. Not realizing that feminine power is totally different to masculine power. Basically feminine power is spiritual power and can only be accessed through love and harmony which will tune women to the all-powerful One.
 
RASA SAYS: WOMEN WERE FIGHTING BACK AGAINST MEN IN THE LATE 1800'S & IT, FOR THE FIRST TIME, BECAME EFFECTIVE. THE SECOND WAVE IN THE 60'S IS WHAT STARTED WHAT WE CALL 'FEMINISM.' IT WAS A BEGINNING, A BRIDGE TO BIGGER & BETTER IDEOLOGIES FOR WOMEN. WE IMPROVED. TODAY, I AM FIGHTING THE BATTLE WHERE IT BELONGS – IN THE SPIRIT–THAT IS THE SOURCE OF OUR POWER. WE ARE GOD – (WHICH WE CALL MOTHER) – AGAINST SATAN – ENTRENCHED IN PATRIARCHY. WE ARE FIGHTING WITH WEAPONS NOT OF THE FLESH, WE ARE FIGHTING AGAINST THE DEMONIC IN HIGH PLACES. FROM SAINT PAUL, OUR WEAPONS ARE NOT CARNAL BUT WE HAVE THE BELT OF TRUTH, THE BREASTPLATE OF RIGHTEOUSNESS, THE SHOES OF THE GOSPEL OF PEACE, THE HELMET OF SALVATION& THE SWORD OF THE SPIRIT.
Another way patriarchal religions attempt to access the One is through meditation and this does work because it turns off our everyday thinking. But meditation can be made far more powerful when we think about the universal love and harmony of the feminine One.
 
But even if you are not into faith, mediation or prayer to any deity, we can get what we want, by only focusing on our desires and nothing else. Trying to think of ways to get something we want, that we think is impossible, is a sure way to get us into a negative frame of mind. So in theory just focusing on what we want will make it more likely we can manifest it. But this would be a lot easier if we had faith that a loving deity will give it to us.

                  RASA SAYS: INDEED THE POWER OF 'PROSPERITY THINKING' INCLUDES VISUALIZATION. IT'S NOT AGAINST GOD, SIMPLY A WAY OF MANIFESTING OUR DESIRES. CATHERINE PONDER TEACHES HOW TO MAKE 'VISUALIZATION CHARTS' TO ATTAIN WHAT WE WANT. I HAVE DONE IT WITH FANTASTIC RESULTS. IF YOU DON'T MAKE THE CHARTS, WRITING DOWN WHAT YOU WANT & DON'T WANT, RECITING ITEMS DAILY IS A TOOL. IMAGINING WHAT YOU WANT EACH DAY & DON'T WANT IS A TOOL ALSO, YOUR FAITH SHOULD BE STRONG. YOU CAN SPEAK THESE THINGS IN MANTRAS:
'I WANT TO EXERCISE DAILY. I DON'T WANT TO SKIP MY EXERCISES.'
'I WANT TO FIND A GOOD HUSBAND. I WANT TO GET RID OF THE NEGATIVE MEN IN MY LIFE.'
'I WANT TO LOSE WEIGHT & EAT HEALTHY. I WANT TO LOSE THE EXCESS WEIGHT, I DO NOT WANT TO EAT BAD FOODS OR OVEREAT.'
 
This is why women are far more powerful than men, if they tune into the power of the One as love and Oneness are the same thing. Men find it harder to access the One as the masculine is rooted in the material world of separation and conflict. (end William's article)

                  RASA SAYS: AS USUAL WILLIAM HAS BROACHED MANY IMPORTANT ISSUES WHICH I AM GLAD TO RESPOND TO. REMEMBER,
                  WOMAN, THOU ART GOD! It's time to step apart from men, build our own world of autonomy, religion, spirituality, POV, rules, agenda. It is what we want, what interests us, what we believe in, regardless of their judgment or opinions. Right now they are irrelevant, it is us we are building. It's safe space, its sisterhood, it's the Divinity within us, it's Mother God, Mother right, Mother returning to earth to save Her children, through us. We have faith in Her, not in men, not in their religions, their version of God, or POV. They are redundant; they are going extinct – not soon enough. We will not wait 100k for their extinction,  begin saving our planet now, begin the flight from negativity now. We leave this rat race society behind, we begin building our new world now, there is much work before us. We can do it, Mother God is within us, beside us & behind us. Glory to Her & to us.

To be continued   article by William Bond
Comments by Rasa Von Werder   11-13-19