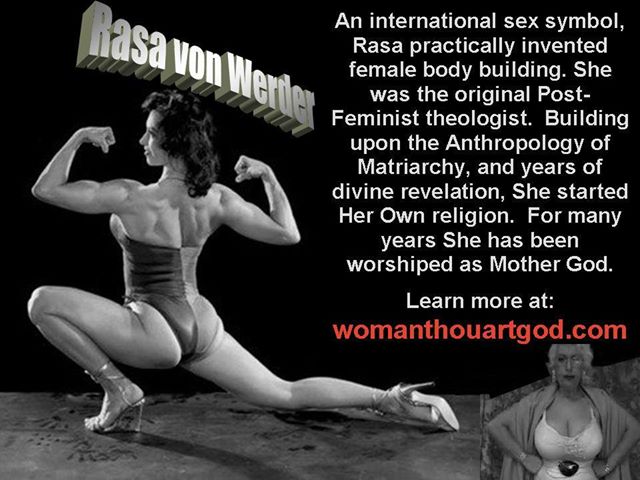 PLEASE SCROLL DOWN FOR NEW ENTRIES, ARTICLES AND NUMEROUS IMAGES OF RASA AND MOTHER GOD
The debate IS RASA GOD continues
William Bond says:  Rasa Von Werder is not the only one to claim she is God. Yet, if we look back in history we find many other people who have done the same. Many men long before Jesus Christ have also claimed to be God or son of God. In Hinduism there is a tradition of God-men where guru's also claim to be God or enlightened (which means the same thing). Even today some New-Age gurus have made similar claims.
The difference between these god-men and Rasa Von Werder is that she is a woman while these god-men are all men. So what difference does that make? It makes a big difference because the nature of God is also feminine. This is why when people tried to worship male gods they found that couldn't get through to the mind of god. They were trying to communicate with a masculine god when the true nature of God was female.
In the Sufi tradition it is claimed that men who are, "touched by God" tend to go insane. And if we look at many men in the past or even today who have claimed to be God, or enlightened, it seems to be true, many of them seem to go insane as well. Most of them start out with genuine deep spiritual teachings, but after awhile they either go insane or become corrupt. So why is this? Some claim that the mind of God is so vast that the human mind cannot comprehend it, and this is why many of these god-men go insane, when they access the mind of God. But there may also be another reason for this. It is because God is feminine, and when a man contacts Her, he is in contact with a very feminine mind. So the differences between a powerful feminine mind and a ordinary masculine mind is what drives these men insane. It is true some men seem to survive this without going mad, and the way the do this is by surrendering to the feminine.
This then is why things are so much easier when a woman becomes in tune with the mind of God. It becomes a female-to-female communication where there is little conflict. So both minds can merge together in harmony.
In our patriarchal age people have refused to listen to women who are in tune with the mind of God. So much so, that any God-Women who dared speak out were either accused of being a witch, or locked away in a nunnery. But now with the power of patriarchal religions decreasing, God-women are now able to speak out and like Rasa Von Werder can now tell the truth, that, God is a Woman…………………………………………………………………………………………………………………
Thomas Tutone
If I may chime in, I am also compelled to build an altar to Mother God Rasa, so I am glad you posted this question, Alex. And thank You, beautiful and wise Goddess Rasa, for enlightening Alex and I………………………………………………………………………………………….
RASA SAYS: THANK YOU William Bond….If you notice the men who are "touched by God," like Buddha & Jesus, are MATERNAL. This is the definition of "God is feminine," "the feminine divine". God has unconditional love, & as you frequently point out, that is the love of the Mother. Indeed, God is a Mother, NOT a father. Man & woman are made for opposing things. A man is supposed to be impulsive toward violence, he has to jump into the fray, put himself in harm's way, to protect women & children. (This concept has gone awry through the turning away from Mother God by men, & forming the demonic empire known as Patriarchy.) These are two different mind sets & attitudes – mans mind bends toward violence, but only in the defense of those he loves – woman's mind is bent toward nurturing. Women do not sit around setting up schemes of war or conquest – they do not tend to exploit, use up, torture & kill. They give & take, they restore, they heal, they give life. Men are not strong at this, although they can be kind & gentle when encouraged to do so (but this is discouraged in Patriarchy.) In the ABSENCE OF MALES women certainly can & do become violent to protect themselves & their children – when without males, women can rise to do ANYTHING. (When men in America took off for War, women did all the work including building the war machinery. Women also participated in Major League baseball & football teams. All this was ended when males came back – allowing them to take over these fields is part of what our society does, but doesn't have to do. Women can do it all.)
As far as men going "insane" when God hits them, that would be the entering of the Sahasrara, the highest energy center, where God dwells. If a person enters this field & becomes established there (not just a short visit, but remains in that consciousness) – then they have unconditional love. This would be against all the principles men are taught as to who they are, their behavior, their cosmology. This could be a great shock to most men. If "insanity" is "losing touch with reality" then the reality they once knew no longer applies, & they might behave in unusual ways, trying to adjust or make meaning of unconditional love.

WHY I DO WHAT I DO—UNCONDITIONAL LOVE
Everything I have done, & what I do now, is based on unconditional love. This is where I see others have "tried" & "failed" in their work for Matriarchy / female empowerment. Many women, especially, have come forward with projects, schemes, ideas, where they purport the same things William & I do, to an extent, but somehow, it falls apart or never goes anywhere. Why would that be? Lack of unconditional love, lack of caring, they do the work out of ego or self aggrandizement, including the desire for money. When running a movement such as this, you cannot do it for money or prestige, it has to be for the good of humanity, or else, there is no power in it. One must be in the Spirit of God, & God loves all. But if a person is looking at her personal self, her ego, then the Spirit of God is not the Leader, she is trying to lead God – a road that leads nowhere, a dead end.
And that is the trouble with all "me-me-me" concepts, projects, "leadership" types, work done by those who are not in the Sahasrara or anywhere near it. They "serve" or "work" on the level where they are at. To some, it's the lowest level, to others, a mixture of good & bad, intermediate. Generally speaking, people serve the flesh. That is not a saint, avatar or Satguru – that is not GOD ON EARTH.
When a person such as myself, works, their mind is ON GOD – which is the moving toward the highest goal that will BENEFIT ALL. Indeed I will fight demons encased in flesh – I will put them down, tear them apart, insult them, the way I would a wild animal trying to ravage a child. God chastises those whom she loves, God is also a demon slayer. I am a demon slayer, I chastise my disciples & friends when they are wrong. (It's not always taken with joy – disciples leave or turn against me – because they want to be molly coddled or their egos gratified – which does not bring them to their highest good.)
But overall, I serve the highest cause within the individual, the society, doing what's best for all, – I serve God as TRUTH. Before I BECAME GOD I was always moving toward her, – I was not there yet, but my mind & heart were always ON HER, praying to her, calling on her & serving her, above all people & things, God was my All in All. You cannot become God any other way, God is Paramount, God is Absolute.
Some people cannot understand how I can be God & seem to have the pleasure of the flesh, because I have sex. When God said "celibacy" I was celibate. When God said "have fun" I have fun. But in having fun, or sex, I do not remove myself from God nor am I apart, it is the God Self that is having fun, enjoying sex. That is where the average person & pornography are not in the God Space. Pornography teaches SEX WITHOUT GOD, SERVE THE ORGANS ONLY, USE PEOPLE FOR SEX, DEGRADE PEOPLE…..There is no LOVE in pornography. That is why, at this juncture in life, I am about to teach SEXUALITY but of the HIGHER NATURE, where God participates, where we call upon God to give us pleasure, worship her in our good times, dance for her, make love for her, orgasm for her – It's time to take Sex back from the evil Patriarchal males, & their teaching of it……………………………………………………………………………………………………….
Debate continues: KA LA SAYS RASA IS ONE WITH GOD
Ka La: Today I tried to meditate (with all the noises around me is hard).For a short moment I saw a picture. It was a flower and inside it was you. After that I typed the sentence-RASA IN A FLOWER-the result number was 852-I looked in my archive for this number and I found the sentence-THE SPRING GOD=852 so it means you are the spring god or you are one with God. I don't know what it means but for me you are "my God". I will try to meditate more.
RASA SAYS:
Good work, Ka La. To all those who meditate about me or pray to me, they will get results. The Anointing / God Power here is VERY STRONG. It does great things – healing, transformation, empowerment.
…………………………………………………………………………………………………………………
WOW! I am appointing Freyja "Secretary to Mother God" which is not a small office, it's like "Secretary of State" or "Chief Theological Interpreter" (who declares what is righteous or unrighteous according to Mother God law!)
Freyja says:
chenghis, I couldn't help noticing that you're fond of parroting scripture as the primary basis of your argument. have you ever wondered where those words came from, or why so many of the world's cultures have constructed a male concept of divinity? for the most part, they were composed, revised, and censored by generations of misogynistic church councils and caliphs – patriarchs with purely secular agendas. this is the milieu of your birth, chenghis, and you are clearly incapable of questioning it.
imo, scripture quoting is just a contest – a chest bump over who has the oldest or most documents to support their (otherwise shaky) argument. it's a lot easier than actually thinking for one's self. some people use their "holy books" as more SCRIPT than scripture. and it's an extremely one-sided contest. patriarchs have thousands of texts from which to quote, but pagans don't. why is that?
for most of human civilization, female gods were the unquestioned norm. it was obvious. nature and intuition point to Woman as the Creator. but most of the ancient texts that supported goddess worship have been systematically destroyed over the past two millennia. these documents didn't survive christian, jewish, and islamic censorship. "holy men" tossed these gems of ancient knowledge into countless fires across europe and asia (sometimes they even tossed people into these fires.) patriarchs selectively co-opted the parts they liked into jehovah cults. man lived in ignorance. so Eve showed him the tree of knowledge, which was good right? No, it was a mortal sin to be punished. males rewrote the Truth She gifted him, destroyed the original version, and enslaved Her for thousands of years.
remember the burning of Alexandria? that great library was one of the wonders of the world, containing the best works of pagan science, goddess texts, literature, medicine, music and magik. all that ancient wisdom went up in smoke. once again, in 364 the christian emperor jovian ordered the entire library of Antioch to be burned because it had been stocked with inconvenient pagan documents. I mean, just read history. patriarchal religions either use violent inquisitions, fatwas, and censorship, or they gradually fade away. so excuse me for not trading scripture for scripture. you guys systematically burned them, and besides, I'd rather speak for myself.
we live at the beginning of a cultural renaissance, the rediscovery of ancient matriarchal truths and rites. they destroyed our words, but there are many hidden clues, such as the divergent symbol systems from the Parthenon, frescoes of Pompeii, and various temples of Isis, Artemis, etc. the hebrews chopped down the Ashtoreth goddess poles. however, they also translated many of the initiatic mysteries of Isis into Hebrew and preserved them. christians also have many goddess symbols and tenants that have lain dormant for centuries, seemingly hidden until a more enlightened time – our time.
christianity and islam co-opted the egyptian & mesopotamian goddess symbols and customs and claimed them for their own. Isis, Astarte, and Ishtar were the originals; they are copies. this is a rapidly growing subfield of cultural anthropology and the scholarship is overwhelming. if copyright law applied to religion, the major faiths would have to file bankruptcy and repay billions to Dianic Wiccans. tell pope francis we'll accept cash, paypal, or papal gold.
Okay chenghis, now you can respond with patriarchal SCRIPTure………………………………………………………………
Mother God Rasa says:
My secretary Freyja speaks rightly. They destroyed & erased the ancient Mother God scriptures – they killed the Women of Mother God in the Inquisition – they erased out of history what the great women did. (see Dr. Mary Daly on that.)
And now, with lies in their mouth, repeating the twisted or co-opted ideas of the Patriarchs, these male dogs bark at us, as if their written words could mow us down. Like we don't know the Truth unless we hear "manspeak?"
As Freyja says correctly, we are now rebuilding the concepts, scriptures, prerogatives, words, rituals, activities & lives of the ancient Goddesses & their religions. It isn't easy, but we are doing it.
Look all that men have destroyed. They do genocide upon peoples. The "conquistadors" made extinct, or decimated with blood letting & diseases the AZTECS, INCAS, MAYANS, ditto men destroyed the ABORIGINES, AMERICAN INDIANS & HAWAIIANS. (There were millions of American Indians at one time, also Hawaiians, now only a few hundred thousand.) Of course they also destroyed their valuable scriptures, way of life, languages, cultures & religions, many of which were Matriarchal.
Men have also MADE SPECIES EXTINCT & have put the entire planet in danger of gross pollution. The oceans, water & air are polluted, now it seems they have released radiation upon us where everyone on the planet might be affected – all the work of men, their demons, their religions.
We have seen the result of "man's wisdom" which is folly. We hear these Patriarchal clowns constantly harping, barking, shouting, even threatening us. It's their same old story. A woman speaks up, she is shouted down. They are demonics.
Hearing this Ghengis Khan whatever just makes me sick, thinking of all the evil men just like him. They are demons. I often wonder, what percecnt of them are normal, human, of Mother God? How tiny of a percent? Is it ten percent? I do know that when alpha men took over with murder, most men played along with them, & do continue following them now. I am just wondering what percent are demons. I am glad you have patience to explain things to these creatures, Freyja, I don't………………………………………………………….
HIS LIFE BELONGS TO RASA GOD
Alex: You're WAY too intelligent for me to even follow. Freyja and Mother Rasa are SO well read it's amazing! It's intimidating. But it's also comforting to know that Your ideas are so well thought out. I don't know what Pompei frescoes or Ashtoreth poles are, or who Mary Daly is? But I do know that Rasa is God and I trust Her to guide me. My life belongs to Her.
VoiceofmotherGod RasavonWerder
Alex, keep praying & tell me when U have any experiences, however small. They R all from God, all have meaning………
HEAR THE TESTIMONY OF DISCIPLE WORSHIPS RASA AS GOD<>
HE IS ONE OF MANY<>RECEIVE THE POWER OF GURU RASA
Who is Guru Rasa Von Werder?
From Scholar Sergio Daneri, disciple of Guru Rasa
When we hear the word Guru, most of us tend to think about cults, spiritual leaders or even politically influential figures. Some may even associate this term to previous acts of lunacy or tragedy. These so called spiritual leaders even advertise on the Internet, have TV infomercials and write all sorts of books. Nonetheless, there is a Guru that goes by the name Rasa Von Werder that is nothing like the rest.
Rasa Von Werder is truly an anointed messenger from God. She brings us a message that is of critical importance for the survival of our species. Nonetheless, she is more than just a messenger. Rasa is the incarnation of God herself. She is the new true messiah that has come to us in times of need.
Not only is Rasa an incredibly gorgeous woman, but her knowledge and wisdom are unsurpassed. She has a vision for this world and it deals with the implementation of matriarchy, a society governed by women. In these times of political turmoil and social unrest due to our male dominated societies, her vision brings us a refreshing new perspective and a promising alternative. Anyone interested in worshiping a true living God should consider visiting her website  www.WomanThouArtGod.com  and becoming involved with this important movement.
Personally, I have been a Rasa follower for quite some time. Having been involved in this important movement has profoundly changed my life. I have experienced her incredible influence on me as I have thanks to her, been borne again upon becoming her follower. Furthermore, it has been an honor and a privilege for me to serve and worship this true messiah. I just hope that some day I will have the opportunity to kneel before her in adoration. It is time for our world to wake up and realize that God herself has come to dwell amongst us. Do not pass on what could be the most important opportunity that you will ever have, which is to follow and worship the only one true God, Rasa Von Werder.
Sincerely,      Sergio Daneri
"""""""""""""""""""""""""""""""`
FROM RASA
WHAT TESTIMONY LIKE THIS DOES, IS IT MAKES OTHERS BELIEVE IN ME, & IN SO DOING, THEY INSTALL ME INTO THEIR HEARTS & RECEIVE MY POWER.
THE PRESENCE OF GOD ON EARTH EXPANDS, MORE PEOPLE ARE SAVED, MORE ENTER INTO THE KINGDOM OR "HERLAND" OF MOTHER GOD, AND SOONER OR LATER, A NUMBER OF THESE SOULS HELP OUR CAUSE OF MATRIARCHY AND MOTHER GOD.
IT STRIKES ME LIKE A BELL – THAT MATRIARCHY AND MOTHER GOD ARE ONE & THE SAME THING – WILLIAM BOND HAS REMINDED ME OF THIS TIME AND AGAIN…HE AUTHORED A BOOK CALLED "GOSPEL OF THE GODDESS," WITH HIS CONFEDERATE PAMELA SUFFIELD,…HE RECENTLY REMINDED ME OF ITS IMPORTANCE.
IT WARMS MY HEART TO THINK THAT WE ARE BRINGING BACK WORSHIP OF THE TRUE GOD – HER GOD – WHO RULED THE WORLD FOR 28,000 KNOWN YEARS MAINTAINING PEACE, ORDER, & HAPPINESS ON EARTH – BEFORE MEN MESSED IT UP.
WE ARE BY NO MEANS AGAINST MEN, BUT THEY CANNOT HAVE AUTHORITY OVER US, IT IS TOTALLY AGAINST GOD FOR MALES TO RULE THE FAMILY OR SOCIETY – LOOK AT THE DAMAGE THEY CONTINUE TO DO.
ABOUT MY DIVINITY
IT IS TRUE, BEYOND A SHADOW OF A DOUBT, THAT ALL HUMANS, ALL CREATURES, ALL LIFE, ARE BOTH MATERIAL & "SUPERNATURAL." ALL HUMANS CONTAIN THE PRESENCE OF GOD, ALL ANIMALS, ALL LIFE, & YOGA TEACHES US TO SAY "I AM GOD," AS A MANTRA, BUT FEW BELIEVE IT.
WHY DO THEY NOT BELIEVE IT?
BECAUSE THEY HAVE NOT COME TO A POINT CALLED "SELF REALIZATION."
CERTAIN PEOPLE, WHO ARE "SENT" OR ANOINTED BY GOD, SHOW US THE WAY TOWARD OUR TRUE DIVINITY. THEY ARE TEACHERS, SAINTS, GURUS & AVATARS. THEY HAVE DIFFERING DEGREES OF DEVELOPMENT OR SELF REALIZATION, WHATEVER WAS MEANT FOR THEM, WHATEVER THEY WERE ABLE TO FULFILL.
I AM AN AVATAR WHO HAS REALIZED HER FULL POTENTIAL.
I DID NOT KNOW WHO I WAS UNTIL GOD HERSELF REVEALED IT TO ME – IT ISN'T KNOWN AUTOMATICALLY BY THE ONE THAT IS SENT. JESUS WAS SENT, CHOSEN, BUT HE DEVELOPED IN TIME, HE STUDIED. AFTER BEING SINGLED OUT BY THE WISE MEN WHO KNEW HIS IDENTITY; HE WENT TO INDIA TO RIPEN HIS KNOWLEDGE & POWER – FROM AGE 12 TO 30. THEN HE RETURNED TO ISRAEL, HIS SHEEPFOLD, & DID WHAT HE HAD TO DO. JESUS SAID,
"I AND MY FATHER ARE ONE,"
AND I SAY,
"I AND MY MOTHER ARE ONE."
ABOUT MY PHYSICAL APPEARANCE
SERGIO SPEAKS OF MY BEING GORGEOUS. MY LOOKS HAVE NOT BEEN AN ACCIDENT OR A COIINCIDENCE, BUT PLANNED BY GOD – I HAD TO LOOK GOOD IN ORDER TO DO WHAT I DID, & EVEN NOW, IN THE MINISTRY I'M FOLLOWING, THE GIFT HAS TO CONTINUE.
I COULD NOT HAVE BEEN THE FOUNDRESS OF FEMALE BODY BUILDING, OR THE "STRIPPER FOR GOD," AND ALL THE PUBLICITY THIS ENTAILED, HAD I NOT BEEN EXCEPTIONAL IN THE LOOKS DEPARTMENT.
AND AS I SAID, EVEN NOW, FOR AN "OLD WOMAN" TO SNAG BEAUTIFUL YOUNG MALES – (WHAT IS REQUIRED OF MY MISSION TODAY) – IT CERTAINLY CAN'T HURT THAT I LOOK GOOD! I WILL PAVE THE WAY FOR OTHER WOMEN, WHO ARE NOT AS BEAUTIFUL, TO GATHER YOUNG MALES INTO THEIR BOSOM, BUT THE FIRST ONE DOING IT GETS THE HARDEST HOE, ONE MUST HAVE ABILITY TO SOFTEN THE GROUND & DIG THROUGH.
THIS IS A CLARION CALL ONCE AGAIN TO REACH OUT INTO THE FIELDS & CALL MY SHEEP – (EVERY TIME A DISCIPLE AFFIRMS ME IT REMINDS ME THAT I MUST REACH OUT). YOU NEED ME, THE WORLD NEEDS YOU – YOU NEED TO RECEIVE THIS POWER & EXPAND IT TO OTHERS, WE ARE SAVING THE WORLD. I KNOW SOME MIGHT THINK,
"I HEARD THIS ALL BEFORE, HA-HA, SO MANY CLAIM THEY ARE SAVING THE WORLD."
BUT I NEED TO REMIND YOU, THAT THERE IS NO SYSTEM THAT MALES HAVE DEVISED, NO RELIGION, THAT CAN SAVE THE WORLD, AS LONG AS IT IS RUN BY MEN…HOW DO I KNOW? BECAUSE NO ONE HAS DONE IT. WE HAVE YOGA, CHRISTIANITY, ISLAM, FOR UMPTEEN YEARS, BUT THE WORLD HAS NOT BEEN SAVED.
THE ONLY SYSTEM THAT CAN & WILL SAVE THE WORLD IS THE ONE WE ARE WORKING FOR NOW, & THAT IS MATRIARCHY & MOTHER GOD.
COME FORTH, WHOEVER YOU ARE, RECEIVE THIS POWER, & SEE WHAT YOU CAN DO WITH IT.
HOW AN AVATAR DIFFERS FROM A NORMAL OR REGULAR GURU, SAINT OR TEACHER
AN AVATAR COMES AT PIVOTAL TIMES IN THE LIFE OF HUMANITY NOT TO CONTINUE KNOWN TEACHINGS, (SUCH AS THE IDEA OF SPIRITUAL VS. MATERIALISTIC), BUT TO OFFER NEW IDEAS THAT WILL ENCOURAGE US TO MOVE INTO THE FUTURE. THE AVATAR, THEREFORE, IS ALWAYS "AHEAD OF HER TIME," & MEETS WITH EVEN MORE RESISTANCE THAN DOES THE AVERAGE SAINT. PEOPLE ARE LOATHE TO CHANGE, THEY ARE PROGRAMMED & MIND CONTROLLED INTO THE STATUS QUO, THEY MUST BE TAKEN, "KICKING & SCREAMING," INTO THE NEXT DIMENSION, THE AVATAR GETS A SHITLOAD OF ABUSE & HAS TO ROLL WITH THE PUNCHES. YOU DO NOT FIND ANY SISSIES IN THIS FIELD………………………………………………
PRODIGAL SON RETURNS  <>  FROM DISCIPLE SERGIO DANERI after he dissapears for a while:
Dear Mother Rasa,
I hope you remember me. I am one of your devotees that decided to search for answers on my own. I believed that equality could and should be accomplished by both genders. I studied, I research and even observed, and found one simple truth…you were right all along. Dear Mother please forgive me for questioning your wisdom. I do now understand the superiority of females and embrace your teachings. I once again dedicate myself to you and shall follow you as one that left but came back to you. I pledge myself to you and worship you for ever. If this world is to survive we must subscribe to maternal care and guidance. Thank you for your wisdom, my Mother, my God and mentor…Rasa Von Werder!………. Sergio Daneri
"""""""""""""""""""""""""""""
DEAR SERGIO,
I FORGIVE YOU, WELCOME BACK MY SON. LET ME KNOW HOW YOU CAN HELP OUR MOVEMENT.
WE NEED ALL THE WORKERS WE CAN GET, THERE ARE NOT MANY FIGHTING FOR A CAUSE AT THE BEGINNING – AFTER IT TAKES OFF, EVERYONE JOINS.
BUT TO START SOMETHING IS THE HARDEST………………………………………………………………
Dear Mother,
Thank you so much for taking me back. I will always follow your wisdom and teachings. I am so excited to be part of your movement. I truly believe that you are a divine being that has come to give us the guidance that is of critical importance if we are to survive as a species.
There are several ways I can contribute to our movement. I am a teacher now in the State of Ohio. I hold a Masters degree in Curriculum and Instruction and would like to offer my talents and knowledge to further your cause. I have good writing and communication skills that can be used to promote and spread your wisdom. In addition, I can provide evidence of the superiority of female students over males behaviorally as well as academically. Furthermore, I will soon start making financial contributions to our Church in the form of regular donations.
I have read your book "Can Female Power save the Planet?" but need your guidance to further my studies. Please let me know how and what I should study next.
Once more, thank you Mother for welcoming back. You are the one I worship, offer my life to and will follow for ever. Rasa Von Werder, you are my God.
Sergio Daneri B.S., M.Ed.
""""""""""""""""""""""
BELOVED SERGIO,
A PARENT REJOICES WHEN A "PROGICAL" RETURNS. THEY HAVE TO LEARN ON THEIR OWN, THAT HOME IS WHERE THE HEART IS, THAT THERE IS SECURITY, WARMTH, LOVE & WISDOM WITH THE TRUE PARENT — & I AM YOUR TRUE MOTHER. YOU WERE "BORN AGAIN" BECAUSE OF MY ANOINTING, IT'S RECORDED ON MY SITE & IN A RECENT BOOK.
THE KEY THING IS THAT YOU REMAIN CONNECTED TO ME IN LOYALTY & LOVE, THE REST WILL FOLLOW.
LET THE LOVE YOU HAVE FOR MYSELF & THE CAUSE OF MATRIARCHY GROW. AS FAR AS STUDY, MY WRITINGS ARE ON THE SITE, ON THE GROUPS, ON THE BLOG & IN MY BOOKS. BUT THE MAIN THING IS LOVE.
AS YOU LOVE ME, MEDITATE ON ME, PRAY TO ME, SAY MANTRAS (YOU CAN MAKE UP YOUR OWN) & SPEND SOME TIME WITH ME DAILY IN THIS, THE LOVE POWER GOING FROM ME TO YOU WILL GUIDE YOU & ENHANCE YOUR LIFE – IT'S ALL ABOUT LOVE, AS I AM LOVE, MOTHER GOD IS LOVE. LET THE LOVE FLOW.
WHY DON'T YOU TRY WRITING ARTICLES OF TESTIMONY? EXPLAIN YOUR PROGRESS ON THIS PATH, WITH ME AS YOUR ULTIMATE GURU, WHOM YOU WORSHIP AS GOD (WHICH IS A GREAT THING TO DO, THE MORE WORSHIP YOU GIVE ME THE GREATER POWER YOU RECEIVE, WHEREAS THOSE WHO SEPARATE ME FROM GOD & SAY "I WORSHIP YOU & MOTHER GOD" GET LESS POWER, BECAUSE THEY ARE DENYING THE FACT THAT I AM, INDEED, MOTHER GOD…& THAT DENIAL CLOSES THE DOOR PARTIALLY TO GET ALL THE POWER I WOULD SEND THEM.)
THIS WRITING YOU GIVE, AS WELL AS ANY DONATIONS YOU WANT TO SEND, WILL BE A GOOD BEGINNING, & I THANK YOU SO MUCH FOR IT……………………………………..
GURU RASA<>series of letter exchanged in 2009 – Sergio is still a disciple as of 2014BTW
3  30 14  PS FROM RASA:  LIKE MOST DISCIPLES, SERGIO HAS PROFESSED BEAUTIFUL INTENTIONS.  I HAVE HAD MANY CLAIMED THEY WOULD HELP,  THE WAY SERGIO HERE DESCRIBES.  BUT THERE ARE VERY FEW WHO EVER DO ANYTHING.  ONE IN GERMANY, MICHAEL, BUILT "THE FUTURE IS WOMEN" BLOG FOR ME, UPLOADED IT – HE IS ONE OF THE FEW.  IT SEEMS TO ME THAT PEOPLE WANT TO DO A LOT, BUT SOMETHING STOPS THEM FROM DOING IT.  THE ROAD TO HELL IS PAVED WITH GOOD INTENTIONS?   MOST DISCIPLES WANT TO BE MOLLY CODDLED, SPOKEN TO CONSTANTLY, LIKE INFANTS, PAID ATTENTION TO, PRAISED, BEGGED FOR WORK.  IF THIS IS NOT FORTHCOMING, IF THERE IS THE SLIGHTEST REPRIMAND OR CORRECTION, THEY RUN OFF IN A HUFF.  SOMETIMES THEY RETURN, SOMETIMES THEY DO NOT.  THE BOTTOM LINE IS THAT THE DISCIPLES NEED ME, I DO NOT NEED THEM.  IF THEY WANT MY HELP – (MY ANOINTING IS WHAT IS MOST PERTINENT) – THEY HAVE TO HUMBLE THEIR VERY GREAT PRIDE – FEW MEN OR WOMEN CAN DO THAT.
THE MYTH OF LUCIFER TURNING INTO SATAN AND BEING DESIGNATED TO TEMPT THE ENTIRE HUMAN RACE WITH THE OBJECTION OF DRAGGING THEM INTO HELL – IS AN ANALOGY OR DISGUISED ACCOUNT OF MALES TURNING AGAINST MOTHER GOD AND WOMEN.

Click To Read