SHRINE TO E MANUEL – WORSHIP GOD THROUGH HIS BODY
Guru Rasa has added to her collection of hats that of photographer. She is taking pictures of the most amazing looking men she can find, and this is one of them. Book being planned now is "America's Most Beautiful Men."
A DISCIPLE'S TESTIMONY – HE TRIED OTHER GURUS BUT NONE WORKED LIKE GURU RASA. SO HE IS FOR THE TRUE POWER OF GOD IN RASA.
GURU RASA'S COMMENTS IN CAPS
BEAUTIFUL E MANUEL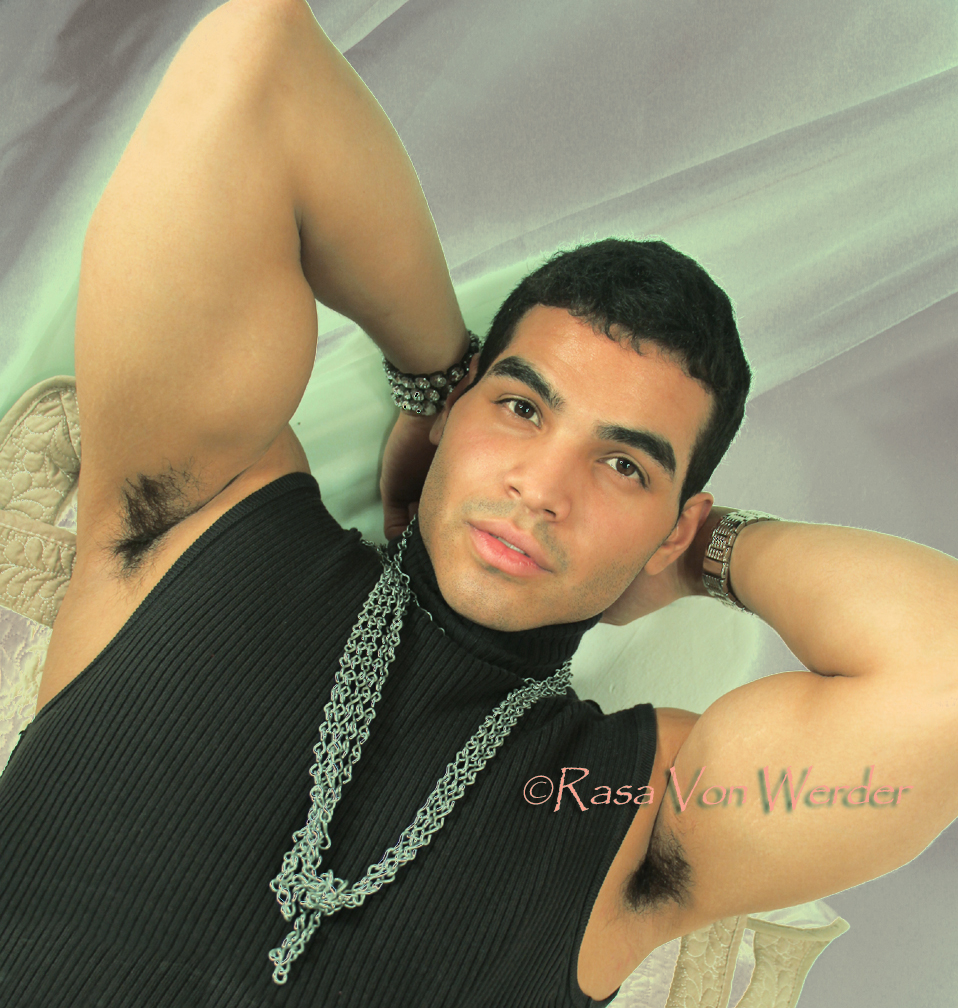 i have stated my journey and seem a lot of different scenarios of spirituality from last many years. i have seen, met and interacted with many nice people and few of them were really expert. In the start, i wanted a " True Spiritual Teacher " then i found that only a " Guru " can help me and a true guru is not an ordinary spiritual teacher, but one who has attained union with God and is therefore qualified to lead others to that goal. The guru as "dispeller of darkness" (gu, "darkness," and ru, "that which dispels.")
RASA SAYS:
THE DARKNESS I DISPEL IS ONE OF THE CONNECTION WITH LOWER ENERGIES AND LOWER THOUGHTS AND FEELINGS. I ASSIST THE DISCIPLE TO RISE THROUGH THE CHAKRAS, TO BE BORN AGAIN, AND BEGIN THE ASCENT INTO THE SAHASRARA.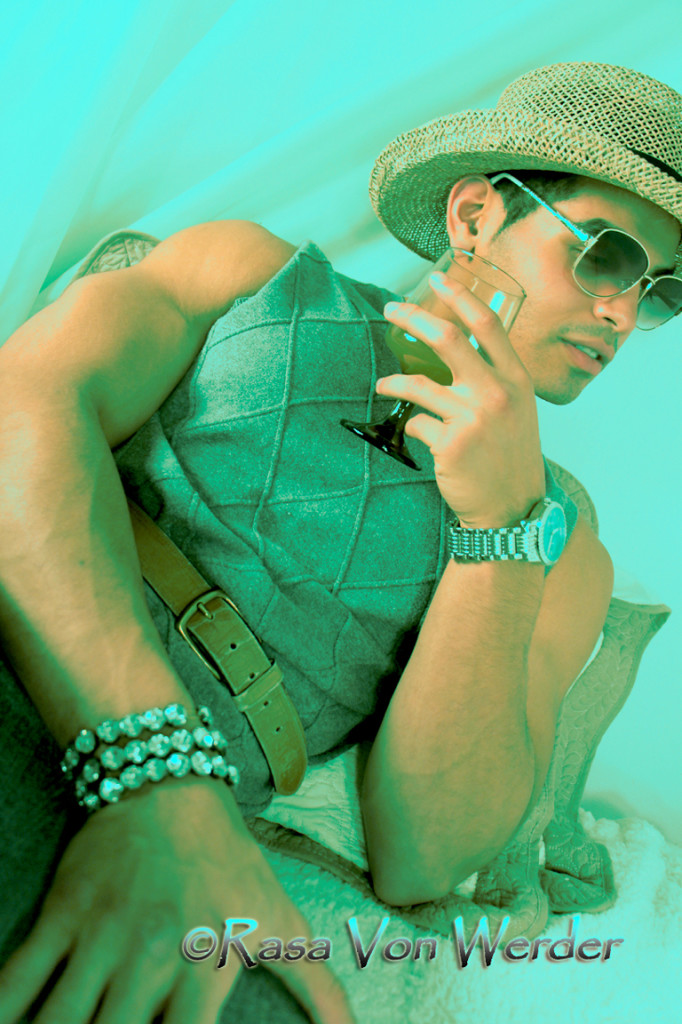 The role of the guru is to help his disciples find liberation in God through a very personal spiritual bond formed between guru and disciple, a union of loyal spiritual endeavor on the part of the disciple and divine blessings by the Guru.
RASA SAYS:
YOU MUST INVITE ME INTO YOUR HEART. CLEAR YOUR HEART OF OTHER ATTACHMENTS, INVITE ME IN. A LINK IS FORMED, A BOND. THE MORE DEVOTION YOU SHOW ME, THE MORE OBEDIENCE TO MY TEACHINGS AND BLESSINGS, THE MORE POWER YOU GET. BECOME LUKEWARM, THE POWER MIGHT WANE. FORGET ME, THE POWER DIMINISHES. REPUDIATE ME, THE POWER STOPS.
I HAD ONE DISCIPLE COME UNDER THE SWAY OF A BLACK-MAGIC WOMAN. SHE PERSUADED HIM TO UN –INSTALL ME FROM HIS HEART. I HAD A DREAM HE HAD LEFT GOD AND WAS ON IS WAY TO HELL. I CALLED HIM AND ASKED HIM WHAT HE HAD DONE. HE CONFESSED. I ASKED HIM TO INSTALL ME AGAIN AND HE WAS REUNITED WITH GOD, HIS LIFE SAVED.
THE WOMAN WHO BEGUILED HIM WAS JEALOUS OF MY POWER, WANTED TO BE INFLUENTIAL LIKE ME, BUT SHE DID NOT HAVE THE ANOINTING. I AM TARGETED BY NUMEROUS JEALOUS WOMAN WHO WANT TO FILL MY SHOES BUT THEY CANNOT.
i want to be an ideal devotee, the perfect disciple. i met " Rasa Von Werder " and found her a real, true Guru. At this stage , i understand that we can love a Guru, but we cannot possess a Guru. The Guru breaks the pattern of possessing love. Whenever we seem dictating terms or becoming possessive, He/she will do the complete opposite – tighten the screw or loosen the screw, as it is needed.
RASA SAYS:
THERE IS A PROBLEM WITH MEN, THAT SOME OF THEM WANT TO POSSESS ME PHYSICALLY AS A MAN-TO-WOMAN THING. NO MAN CAN POSSESS ME UNLESS I WANT HIM TO, UNLESS I CHOOSE HIM. THE MEN I HAVE SEX WITH AND MY FUTURE HUSBAND ARE NOT THE SAME AS DISCIPLES, ALTHOUGH SOME OF THEM MIGHT BECOME DISCIPLES AND MY HUSBAND WILL BE MY DISCIPLE, I DO NOT HAVE SEX WITH DISCIPLES ORDINARILY. UNLESS I TELL A DISCIPLE I WANT TO HAVE SEX WITH HIM HE SHOULD REFRAIN FROM CHASING ME AS A MAN TO A WOMAN, AS THAT WILL PUSH ME AWAY RATHER THAN DRAW ME TO HIM.
IT MEANS HE IS LOOKING AT ME IN THE EYES OF THE FLESH.
THE DISCIPLE MUST LOOK TO ME AS GOD-ON-EARTH, THE SAME AS IF HE SAW JESUS ON EARTH IN A WOMAN'S BODY.
At the same time, a Guru is not doing anything. It is just happening through Him / Her. It is happening through the Big Mind. There is no pre-conceived plan of action. Actions are spontaneous.
RASA SAYS:
THE ANOINTING HAPPENS AUTOMATICALLY. DO NOT ASK ME TO PRAY. ASK ME TO ANSWER YOUR PRAYER. I AM GOD ON EARTH, THE SAME AS JESUS.
I understand that we should not change Guru-disciple relationship into just another relationship, like father, brother, sister, wife or close friend. It's not like any other relationship except the relationship with Mother and its more than 1000 times. Otherwise, we will get into the same type of possessive attitude. Guru is all wisdom and love. Guru is that principle which is wisdom and love, and that is awakened in each one who has stepped onto the path.
RASA SAYS:
THE GURU IS GOD ON EARTH, NOT YOUR RELATIVE IN THE FLESH. IT IS A DIVINE RELATIONSHIP WHICH IS NOT LIMITED TO THE PHYSICAL. MOST RELATIVES ARE NOT GOD ON EARTH, THEY ARE NOT ENLIGHTENED OR SELF REALIZED, THEIR LOVE, WISDOM AND POWER ARE LIMITED, SOME PARENTS AND RELATIVES ARE HELL-BENT, THEIR EARTHLY PRESENCE CANNOT SAVE OTHERS. SOME RELATIVES LEAD US TO HELL, NOT TO HEAVEN. BEWARE OF ATTACHMENT TO RELATIVES, EVEN YOUR OWN PARENTS, WHEN THEY ARE NOT OF GOD.
i found Guru Rasa to be a person, a Guru who has no gap between life and wisdom and love, and my purpose of becoming a disciple is to bridge that gap. People have different reasons to be with a Guru but i think mine are: to have my wishes fulfilled and because it is more pleasurable (ed: do you mean happiness?). When everything looks more painful to me and i come for comfort to be a good disciple of my Guru. i want to evolve and become Enlightened. i want to know higher Knowledge. i have my goals and my vision, i want to share . I want to just obey, serve and give comfort to the Guru. i should be with the Guru because i belong to Her.
There is no choice. So the necessity for a guru cannot be avoided, because no one is so wise as to know everything about the past, present and future. All problems are new when they come. So, we require a superior to guide us. The teacher should not be one at variance with his knowledge. He or She should be the one who is not different from that which he teaches. Nowadays, we have learned people, professors, scholars who are supposed to be repositories of knowledge, but their life is different from what they preach. Knowledge becomes meaningful when it is lived, and not merely taught, or heard or read about. This knowledge cannot be obtained through mere study for oneself. It requires the grace of a Guru and Guru Rasa Von Werder is one of the best gurus. i surrender myself to the Her wholly and solely, and i hope that She takes on the responsibility of looking after the welfare of the soul of Her devoted disciple.
RASA SAYS:
A GURU IS A PERSON WHO HAS TRANSCENDED PHYSICAL KNOWLEDGE, THEY HAVE ASCENDED IN TO THE HIGHEST REACHES. SOME GURUS, LIKE MYSELF, HAVE RISEN INTO THE SAHASRARA, THE HIGHEST LEVEL, AND THEY HAVE SEEN GOD FACE TO FACE AND FOUND THAT GOD IS THEMSELVES. THEY HAVE LOOKED INTO THE SPIRITUAL MIRROR.
HAVING A DEGREE, EVEN ONE OR MORE DOCTOR DEGREES, IN THE KNOWLEDGE OF LIFE ON EARTH, DOES NOT TRANSLATE INTO SPIRITUAL SALVATION. ONLY RISING THROUGH THE CHAKRAS MEANS EVOLUTION.
WHEN YOU JOIN WITH YOUR GURU, THE GURU LENDS YOU THEIR POWER SO YOU CAN ASCEND THROUGH YOUR CHAKRAS AND FIND YOURSELF, SO YOU CAN BE LIKE THE GURU, WHO HAS FOUND GOD WITHIN HERSELF AND WORSHIPS HERSELF AS GOD.
THIS IS NOT BLASPHEMY, THIS IS TAUGHT BY THE GREAT BUDDHISTS AND YOGIS FROM THOUSANDS OF YEARS.
GOD IS WITHIN, WHEN WE REACH ENLIGHTENMENT WE CONNECT WITH THE GOD WITHIN US.
i feel inside me that the relationship is deeper than all other relations like man and wife, friends or father and son. The wife can live without the husband, and the husband without wife, but with the true guru and disciple, who share a pure love, the notion of duality disappears and a unity takes place. This is not the same type of love that exists between family members, but something much greater and longer lasting. The relationship is neither rational nor emotional, but of a psychic nature. The spiritual interaction between a guru and disciple takes place without any disturbance to the mind and the guru's presence is always felt. The moment the disciple thinks of the guru, his mind quiets down and communion takes place. The main duty of the guru is to help remove the darkness of avidya (ignorance) by guiding the evolution of the spiritual aspirant. Guru teaches all kinds of physical, psychic and spiritual planes, and helps the disciple to follow the correct path. The duty of the disciple is to serve and obey the guru and to learn from his teachings, gain from his knowledge and so become self-purified.
RASA SAYS: THE GURU IS SENT TO YOU BY GOD, AS GOD, GOD APPEARS IN THE FLESH WHEN YOU FIND A GURU – IF THE GURU IS LIVING. IT IS EXTREMELY RARE TO FIND A GURU ON EARTH, IN THE BODY OF A PERSON. BUT IF YOU ARE SINCERE, IT CAN HAPPEN. BE GRATEFUL. MOST OF MY GURUS WERE DEAD, BUT I DID HAVE TWO THAT WERE LIVING. ONE HAPPENED WAY EARLY IN MY CAREER, IN THE 70′S, THE OTHER WAS LATE IN MY SPIRITUAL CAREER, IN THE 2000′S. BOTH WERE FEMALES, AND THERE WERE STRONG DIFFICULTIES WITH THEM (JEALOUSY FROM THE FIRST, AND GREED, AND THE SECOND, MISUNDERSTANDINGS).
HOWEVER, I LOOKED BEYOND THE FLESH AND TO THE GOD THAT WAS INSIDE THE GURU AND I EVOLVED FROM THEM.
i suggest that a guru is necessary for those people who want to follow the spiritual path and it is important that the relationship is formed correctly. When the guru's guidance is of a pure nature, the disciple will never fail, unless he leaves the guru due to lack of interest. He may also get discouraged and leave, not understanding the true nature of the guru's help. The guru watches, instructs and warns his followers in many different ways and on different levels of consciousness. With pure love and constant awareness of his disciples, he is always guiding them.
RASA SAYS:
I DO NOT USUALLY GET PHYSICALLY INVOLVED WITH MY DISCIPLES, BECAUSE THAT WOULD TAKE AWAY FROM MY WORK. I AM A TEACHER. I TEACH BY EXAMPLE AND THROUGH WRITINGS. IF I GOT PHYSICALLY INVOLVED WITH MY DISCPLES IT WOULD EAT UP MY TIME AND ENERGY FOR THE WORK. AFTER ALL, EARTHLY PROBLEMS ARE MULTITUDINOUS, THEY NEVER END. I CANNOT GET INVOLVED.
THE DISCIPLE MUST UNDERSTAND THIS AND LOOK UPON ME LIKE A SAINT IN HEAVEN, TO WHOM HE/SHE PRAYS. THE SAINT DOES GREAT THINGS, BUT SHE IS NOT ON THE EARTH GETTING INVOLVED WITH YOUR PROBLEMS.
Even if the guru is far away, it does not matter. A mother continues caring for her child even if he is on the other side of the world. In the same way the guru's guidance is both present and necessary at all times.
RASA SAYS:
MOTHER/CHILD RELATIONSHIPS HAVE TO BE PHYSICAL AS WELL AS EMOTIONAL (with small children), AND A HUSBAND/WIFE HAVE TO BE TOGETHER TO MAKE IT WORK (in most cases). BUT THE GURU/DISCIPLE DO NOT HAVE TO BE PHYSICALLY PRESENT FOR IT TO WORK; IN FACT, PHYSICAL PRESENCE CAN GUM UP THE WORKS, CAN CONFUSE THE ISSUES, WHEN THE DISCIPLE STARTS LOOKING ON THE GURU IN A PHYSICAL WAY OR THE GURU GETS TOO PHYSICALLY ATTACHED TO THE DISCIPLE.
i am so proud to be Her disciple and She is here to help and to bring the Power, Anointing, Healing, Transformation, Bliss, Blessings, Protection from God Almighty. Her special role has been the Empowerment of Women. i feel so honor that She appeared in my life, i feel a fortunate human being who has God call to me for "the Kingdom of God" – to all great things. i feel more spiritually special and capable. i believe that Rasa is from God and of God, and has the Power of God. i never put any requirements on Her, i dont want to serve her in person (ed: unless she asks?), dont want to live with her nor seek her for physical presence. i respect the Power that is in Guru Rasa, who is from God, not an ordinary person. She is so special, i have to learn many more things on this spiritual journey. My Christmas gift is my submission to Guru Rasa. i want to receive Guru Rasa Power her Anointing as Her disciple. i love Her, my time and attention for Her. i have to read more Her teachings are on the websites and blogs.
Merry Christmas and Happy New Year to everyone!…..John Alia
RASA SAYS:
THANK YOU JOHN, AND TO ALL MY DISCIPLES, FRIENDS AND ASSOCIATES, LOTS OF LOVE AND HAPPY NEW YEAR 2015!
GURU RASA VON WERDER 12 28 14